Cinque Pay
Cinque Pay simplifies central bank payment systems by helping banks facilitate payments using digital channels and seamlessly integrates both external and internal payment gateways. Cinque Pay unifies all products under one umbrella enabling Real Time Gross Settlement (RTGS),   automation, reducing manual intervention, providing a consolidated end of day reconciliation and optimizing operational efficiency. 
Cinque Pay is a flexible, configurable system built using the latest technology which reduces the infrastructure maintenance costs for clients. The system has an inbuilt rule engine to validate and securely send transactions as per the guidelines of the central banks. It has configurable workflow and carries out payment realization to the destination payment systems and gateways. 
Cinque Pay is a centralized payment hub which unifies systems like Funds Transfer System (FTS), Direct Debit System (DDS), Wage Protection System (WPS), Image Cheque Clearing System (ICCS) and Immediate Payment Instruction (IPI) under a consolidated dashboard. The dashboard enables the clients to gain an insight of the transactions in queue and the current services. There are alert mechanisms like email and SMS which helps the user take the appropriate actions. Cinque Pay can be hosted on cloud and uses Devops methodology, both of which will save the client time and money.
Unified payment platform is the future.
In the digital world today, the payment landscape is continuously evolving, and clients expect faster turnaround time with secure payment channels. There is a serious need to integrate various payment channels for the banks and other financial institutions. Cinque has developed Cinque Pay to cater to the market needs and provide a one stop solution for central bank regulated systems. This platform empowers the financial institutions to adapt and thrive as the future of payments evolves and changes.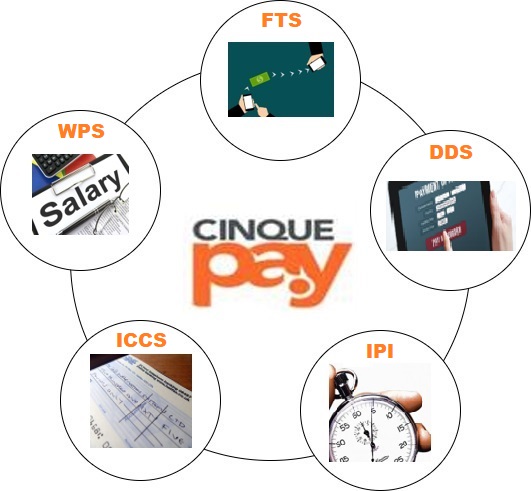 Unified dynamic dashboard with real-time alerts and notifications. 

An innovative and flexible platform to evolve with central bank changes.

End of day reconciliation, position and central bank reports. 

Configurable workflows and simplified operations. 

Payments made in a highly secured environment.

Compatible and integrable with different financial applications.

Improved efficiency and reduced infrastructure costs.

Maintenance becomes easier and fits the budget.

Swift International Payments supported a fast, easy and secure method to transfer money globally.